HISTORIC VENICE (Sarasota County)
NO LONGER A RAILROAD RETIREMENT TOWN
The area north of Venice Bay was settled by the 1860's by homesteaders like Jesse Knight, a Methodist preacher from Georgia, and was known as Horse and Chaise. In 1882 chemist Frank Higel, who once lived in Venice, Italy, arrived and promoted the region to Northerners like lawyer Joseph H. Lord and Lord's friend Mrs. Potter Palmer whose purchase of thousands of acres influenced area development for years.
In 1925 the Brotherhood of Locomotive Engineers obtained 50,000 acres from surgeon Dr. Fred Albee, and hired Boston architect John Nolen to design a farming and retirement city, complete with resort hotels, wide avenues, a residential area (Gulf View), and waterways.
<![if !vml]>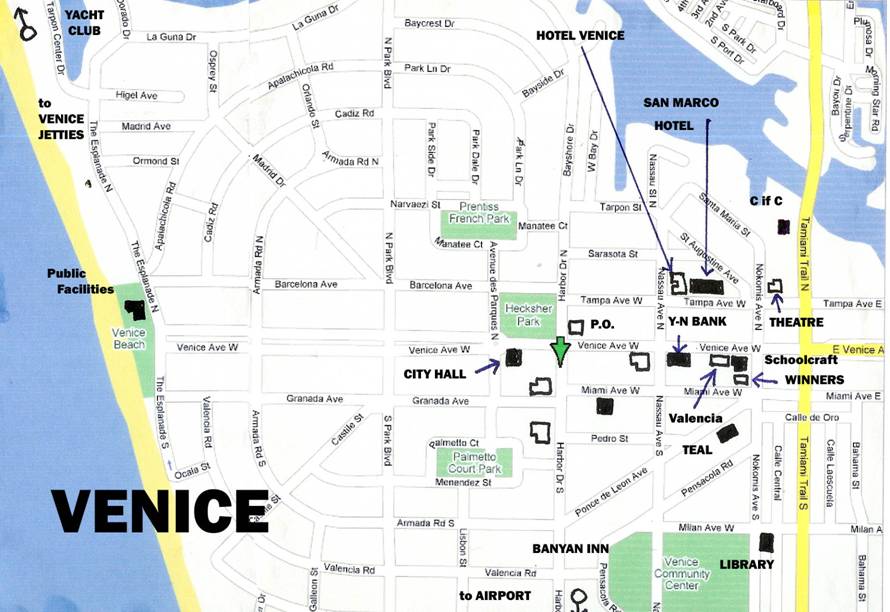 <![endif]>


<![if !supportLineBreakNewLine]>
<![endif]>
---
WHERE TO START: EXIT BUSINESS US41 and drive East on VENICE AVENUE to downtown area. This area east to Nokomis Avenue and south to Miami Street was part of Joseph Land's 1915 Venice subdivision.
CROSS NOKOMIS. On your left is the five story ALBERT BLACKMURN BUILDING (Schoolcraft Building) (1926), 201 Venice Avenue, a business block which featured a pharmacy with upstairs apartments. At 229 Venice Avenue is the EL PATIO HOTEL (Valencia Hotel) (1926), a fine Mediterranean Revival hotel that has greeted winter tourist and circus people for decades. Stanton Ennes of the Brotherhood of Locomotive Engineers designed the neat arcade and even a post office.
<![if !supportLineBreakNewLine]>
<![endif]>
Also part of this historic commercial block at 247 Venice is the 1927 HOWARD ELECTRIC COMPANY BUILDING. One block over is the 1940 ESTES BUILDING.
---
You'll want to cross the beautiful greenway northward to the huge complex of buildings on Tampa Avenue. Around the corner at 200 North Nassau is the HOTEL VENICE (1926), built by the George Fuller Company as a three story resort. John Nolen designed the Northern Italian structure complete with campanile. He hired Charles Kane of San Francisco's St. Francis Hotel as first manager. Thomas Edison, Ty Cobb, and William J. Burns stayed here in the Land Boom. Kentucky Military Institute obtained the place as a student dorm in 1932 and now it is a 78 room retirement center.

Next door on the wide Center Mall is the SAN MARCO HOTEL (1927), third of the large Venice resorts. Designed by Tampan Franklin O. Adams and constructed by R. W. Wishart, who did the hotels on Davis Islands (Tampa), San Marco was utilized from 1932 to 1970 as the winter home of Kentucky Military Institute before its condo/shop restoration.
Before TURNING RIGHT ON NOKOMIS, notice at 140 West Tampa Avenue, the VENICE LITTLE THEATER (1927), a converted garage to movie house, then gym of K.M.I. This fine drama group started in 1950 in a World War II quonset hut at the airport.
<![if !vml]>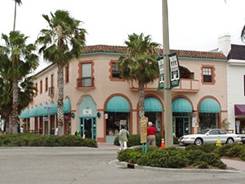 <![endif]><![if !vml]>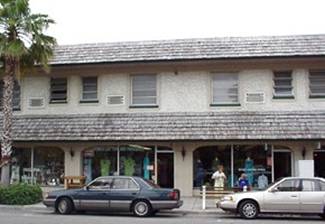 <![endif]><![if !vml]>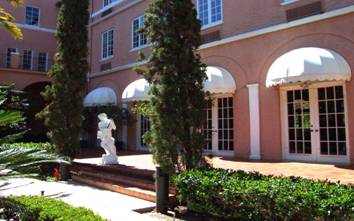 <![endif]>
201 Venice Avenue Estes Building Hotel Venice Courtyard
<![if !vml]>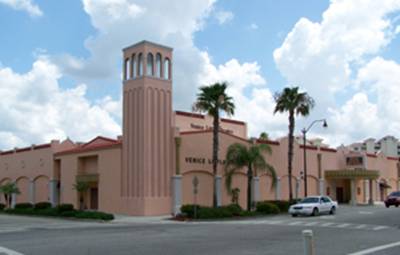 <![endif]><![if !vml]>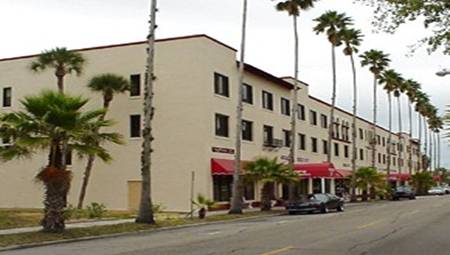 <![endif]>
Venice Little Theatre San Marco Hotel Building
DRIVE SOUTH ON NOKOMIS ACROSS VENICE AVENUE. At the right apex of Miami and Ponce de Leon is the (6) HOLLYWOOD APARTMENTS (BURGUNDY SQUARE), a 1926 two story Italian Renaissance boom hotel. Two structures on Miami to note is the 1925 H.N. "BUD" WINNERS REALTY at 221 Miami – it's a neat Mediterranean Revival with arched windows, and the 1926 L..M. TEAL BUILDING at 225 West Miami.
<![if !supportLineBreakNewLine]>
<![endif]>
Two blocks south on the right are some indications of Venice's strong cultural community: THE VENICE LIBRARY, 300 South Nokomis, with a collection of historical and architectural materials. Two of the library's benefactors are Rosemary and Walter Farley who wrote The Black Stallion. Nearby is the Venice Community Center and the Venice Art League.
---
TURN RIGHT ON TURN, RIGHT ON PENSACOLA, and LEFT ON VALENCIA to reach Harbor Drive. TURN RIGHT (north) on HARBOR DRIVE toward downtown.

<![if !vml]>
<![endif]>
At 241 South Harbor Drive is the GEORGE YOUNGBERG HOUSE (1926), the Italian Mediterranean home of the engineer of the Venice Project, and later Mayor James T. Blalock. At 519 South Harbor is a wonderful bed and breakfast THE BANYAN HOUSE, a 1926 stucco mansion built for archaeologist Dr S. M. Thomas.
PASS GRANADA where you'll see the VENICE CITY HALL (1925), 401 West Venice Avenue, designed by John Nolen.
TURN LEFT ON VENICE AVENUE toward the Gulf of Mexico, passing many 1920's houses. The Avenue ends at Venice Beach and the VENICE BEACH PAVILION (1963), by David Hamilton.
<![if !vml]>
<![endif]>
TURN RIGHT UP TARPON CENTER. Here condo row has hit the beach since 1959. If you turn up Apalachicola, you reach the VENICE YACHT CLUB, LaGuna Drive, started in 1927 by Dr. James Hall, Teddy Roosevelt's physician.
<![if !supportLineBreakNewLine]>
<![endif]>
Off White Cap Circle is the FRANK HIGEL MARINE PARK, on Roberts Bay, named for the Philadelphia publisher who boosted Venice. The harborside spot has restrooms, picnic tables, and a boating viewpoint. AT THE TIP OF TARPON CENTER is the popular SOUTH JETTIES PARK where two acres of huge rocks fill with fishermen and strollers.
---
Parking is limited but taking a beach visit is popular. RETURN TO HARBOR DRIVE (see map) and DRIVE SOUTHWARD if you wish to visit other beach areas. Off Beach Boulevard is GOLDEN BEACH, famous for its black shark teeth.
If you turn left on Shore Drive and continue on Airport Avenue, you will see VENICE AIR FIELD (1939), started by the P.W.A. and later serving as an Army Air base, complete with 200 German prisoners. At the end was the RINGLING BROTHERS & BARNUM & BAILEY CIRCUS WINTER HEADQUARTERS now departed.
---
<![if !vml]>
<![endif]>RETURN TO HARBOR DRIVE if you wish to travel south past the 700 foot VENICE PIER to CASPERSON BEACH COUNTY PARK, 113 acres of dunes and palmetto woods. There are full facilities in this park, named after Finn Casperson who pioneered the Venice Aviation Club. Popular Sharkey's On The Pier is a good stop to view the sunset and have food.
---
OTHER BUILDINGS TO SEE:
TRIANGLE INN (1926), Nassau Street at Pensacola Road, is a two story Italian Renaissance building designed by Walker and Gillette, with a notable round turret. The building now houses the City of Venice Archives.
FRANK NIGEL HOUSE, 808 LaGuna Street, was the last home of the family that founded Horse and Chaise, the original Venice town. 616 LaGuna is a fine Boom Time Spanish-Mediterranean home.
---