SARASOTA

, Florida
FLORIDA
'S CITY OF THE FINE ARTS
SARASOTA, County Seat of Sarasota County, is most noted as the artistic and literary center of the Florida West Coast due to its large number of theaters, the famous Ringling Art Museum, and a large artist and literary community.  A stroll around downtown reveals a large number of theatres, bookstores, and art galleries.
Yet the area was an agricultural wilderness in the 1840's when homesteaders like William H. Whitaker from Savannah settled on Whitaker Bayou. After the Civil War developers and land speculators posed such a danger to early settlers who farmed under the 1862 Homestead Act that local farmers and ranchers formed a Vigilance Committee against those who'd circumvent them using earlier Federal laws. The conflict climaxed in the assassination of Postmaster Charles Abbe in 1884 (plot started in Alfred Bidwell House (1884), 849  Florida Avenue.
In 1888 a new Era started when Sir John Gillespie of Edinburgh, Scotland, arrived to start the Florida Mortgage and Investment Company to promote land sales in the North and Europe. Gillespie built Florida's first golf course where downtown is located.

WHERE TO START:  Most people visit the state-operated RINGLING ART MUSEUM and John Ringling's waterfront  mansion threw miles north of downtown off US41, so we will assume you are traveling south on US41 toward downtown.  As you near 8th Street, you will see Sarasota's arty Northern waterfront.
At  Fifth Street is the old  CIVIC CENTER EXHIBITION HALL (1935), a $131,000 W.P.A. Art-Deco Moderne structure by Chicago architect Thomas Reed Martin. It has recently been restored to its better days when it hosted everything from art shows to the Miss Florida pageants.
Behind the domed auditorium, on land obtained in 1935 by Mayor E. A. Smith for back taxes is the modern symbol of Sarasota's cultural community, the: VAN WEZEL PERFORMING ARTS CENTER, 777 North US41, the purple waterfront landmark that hosts events usually reserved for larger cities.

   The John Ringling Mansion
 South of the Civic Center in the small complex is the INFORMATION CENTER , the SARASOTA ART ASSOCIATION, and the: (3) OLD SARASOTA LIBRARY (1941), now the SARASOTA COUNTY HISTORICAL COMMISSION, a one story Doric temple. Mrs. Doris Davis, Sarasota historian, promoted this important protector of Sarasota's heritage.   Ironically the area south is filled with historic controversy as the historic RINGLING HOTEL was torn down.  This area contains the luxury RITZ CARLTON and HYATT hotels and new development. Driving into this area you won't miss at 1133 4th Street EL VERONA (Belle Haven) (1926), a three-story Mediterranean masterpiece of Dwight James Baum.  The building will hopefully survive in some situation.
DOWNTOWN SARASOTA:   Turn left (east) onto First Street or another street and look for parking.  There is some parking on the waterfront at Marina Plaza by the popular MARINA JACKS, but you will have to cross busy US41 to walk downtown. 
USE THIS DOWNTOWN MAP AS A GENERAL GUIDELINE
<![if !vml]>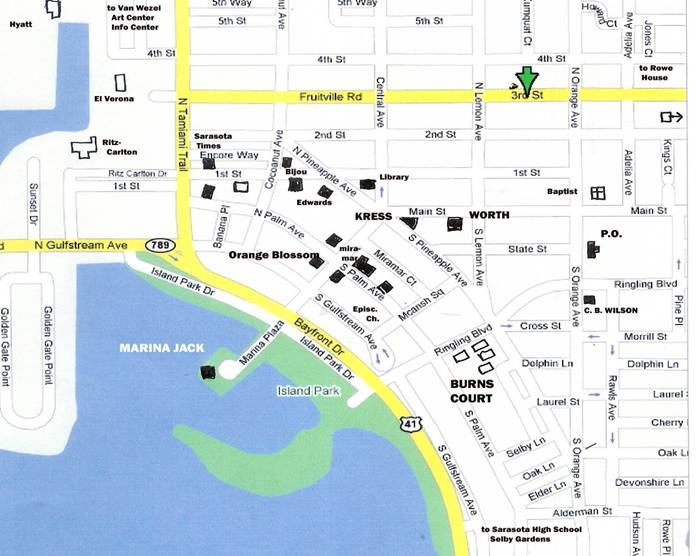 <![endif]>
GULF STREAM AVENUE, the first street off US41 is lined with condominium row , but PALM AVENUE has wonderful shops and restaurants. . On the west side  is the EPISCOPAL CHURCH OF THE REDEEMER financed originally on Pineapple by Dr. Jack Halton and Colonel Gillespie. This edifice dates from the 1940's. On the left at 67 South Palm is the MIRA MAR APARTMENTS/DEMARCAY HOTEL COMPLEX (1923), started by Scottish-born Andrew McAnsh who designed the Spanish Mission style hotel and 1200 seat auditorium.  At 201 South Palm is the BACON & TOULIN BUILDING (1902).
Going back to Main Street and heading eastward into downtown is the next best route. But you might want to walk around the next block of Palm Avenue to see at 1241 North Palm the beautiful FLORIDA STUDIO THEATER (1926)  At 1330 Main Street is the towering  ORANGE BLOSSOM HOTEL (1926), once a bank and later a apartment building. If you continue east on Main Street, you'll get to Sarasota's downtown core.
Before Main Street, I'd walk down North Pineapple past the beautiful SELBY PUBLIC LIBRARY with its neat statues. Across the street  is the 1926 SARASOTA OPERA COMPANY (Edwards Theatre), at 57 North Pineapple.  The four-plus story building was designed by Roy A. Benjamin in the Mediterranean Revival style of the Land Boom.  Its interior is as classic as the masonry frontage. Everyone from Elvis to Sally Rand has graced the 1,500 seat auditorium.
 Across the way is a converted gas station, now the arty BIJOU CAFÉ, 1287 First Street, complete with a clever statue.  No Florida  city has more public art work on display than Sarasota.  The tall structure you see down ar 1216 First is the SARASOTA TIMES BUILDING (1926), another Dwight James Baum Mediterranean Revival classic.
If you decide to backtrack down Palm Avenue, you  will notice: the L. D. REAGIN HOUSE, 1213 North Palm, owner of Sarasota Times; the F.A. DeCANIZARES HOUSE (1924) at 1215 North Palm.
<![if !vml]>
<![endif]>     The Rowe House
<![if !vml]>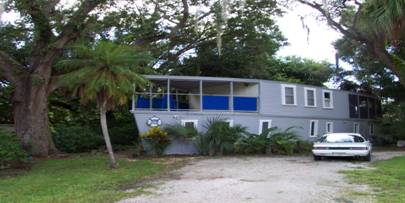 <![endif]><![if !vml]>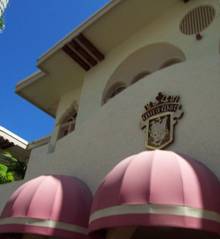 <![endif]>
 Main Street in Sarasota in 1946                                                                                                                       Mira Mar Apartments
Go back to Main Street for a heavy dose of stores, casual restaurants, bookstores, and art galleriesAt 1367 Main Street, is the three story JOHN IWERSEN BLOCK (1915), a granite structure that just survived the downtown fire of 1915. It was the home of the Sarasota Times for years.  At the "FIVE CORNERS" intersection of Main and Pineapple is
CROSS PINEAPPLE and "the Five Corners." On your right at 1442 Main Street is the delightful  S.H. KRESS COMPLEX (1932), 1442 Main Street, an Art Deco three-story  buff brick structure by G. A. Miller.  At 1490 Main Street is the WORTH BLOCK (1925(, a commercial complex with offices and homes on the second floor.
Past LEMON STREET on Main Street was the Sarasota Railroad Depot (1911). On the right in the 1500 block is the FIRST TRUST COMPANY/KICKLITER BROTHERS BUILDING (1927), a fine Neoclassical Revival brick edifice with a three bay entrance. Passing the tall Ellis Building (1978) at 1605 Main Street, you'll see on your left the  FIRST BAPTIST CHURCH (1924), 1661 Main Street, a Neo-Classical Revival stone church.
* * * * *
You will need to walk back to your automobile to easily reach places around downtown. If you went north off Main to: 425 North Osprey and the  ART ROWE HOUSE (1934), a boat-shaped house with a 100- foot octagonal lighthouse off the bow, a logical residence for the former captain of John Ringling's boat.
RETURN TO MAIN STREET. At 1819 Main Street is the twelve story SARASOTA CITY CENTER. TURN RIGHT ON SOUTH LINKS AVENUE to the funeral home at 22 SOUTH LINKS AVENUE, a section of which contains the 1885 home of Colonel John Gillespie, founder and first mayor of Sarasota.
RETURN TO MAIN STREET and continue to 2000 Main Street, the SARASOTA COURTHOUSE (1927), Dwight James Baum's unusual two-building complex connected by a tower and carillon. The $500,000 "touch of Venice" nearly bankrupted the city in the Depression.
<![if !vml]>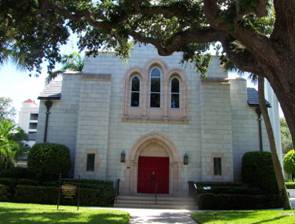 <![endif]><![if !vml]>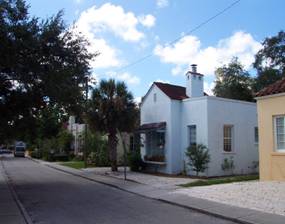 <![endif]><![if !vml]>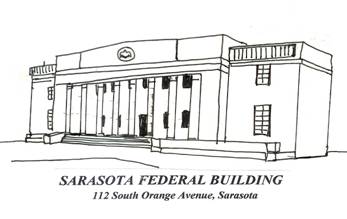 <![endif]>
              The Episcopal Church                                        Burns Court
TURN AROUND AND HEAD TOWARD CITY CENTER (west) ON MAIN STREET, but TURN LEFT ON ORANGE AVENUE. At 111 South Orange is the U.S. POST OFFICE (1932), a Neo- Classical building whose stone facade of bay entrance ways is matched by Corinthian columns.
A block south at 235 South Orange is the DR. C. B. WILSON HOUSE (1890), with a 1913 second-story addition, home of the native-born World War I medic who became President of the First Bank and Trust. TURN LEFT at apex with Oak and Pineapple and continue NORTH ON PINEAPPLE.
---
On your left at 418-446 South Pineapple is the unique BURNS COURT (1926), a complex of small buildings now converted to shops and homes and even a movie-house built by Owen Burns, the Chicago realtor and promoter.  
. OTHER BUIDINGS TO LOOK UP : SARASOTA CITY HALL (1913), Orange Avenue and First Street, by John Nolen; the JOHN H. GILLESPIE HOUSE, 1672 Morrill Street; the JEAN D. HAZEN HOUSE (1909), 1646 Morrill Street; the WOMENS CLUB, 1241 North Palm (Florida Studio Theater); SARASOTA HIGH SCHOOL (1913) 1001 South US41, M. Leo Elliott's local masterpiece.