PUNTA GORDA
OLD FISHING PORT AT THE END OF THE PEACE RIVER
PUNTA GORDA, county seat of Charlotte County, occupies a point where the Peace River meets Charlotte Harbor. It was a small cattle port until 1885 when Unionist Kentucky lawyer Isaac Trabue purchased hundreds of waterfront acres to promote the coming of the Florida Southern Railway. A huge Punta Gorda hotel graced the river, but Trabue lost his riparian rights to his land and the townsfolk didn't cater to his choice of "Trabue" for town name. One of the town's young leaders Albert Walter Gilchrist rose to General of the Florida militia, leader of the Southland Development's resort hotel, and eventually Governor of Florida.
<![if !vml]>

<![endif]> Isaac Trabue     <![if !vml]>

<![endif]> Albert Gilchrist

As most know Punta Gorda was the victim of a savage 145 mph hurricane. Most of the Victorian waterfront buildings survived due to their great construction. Other structures were heavily damaged. The Freeman and Trubue landmarks survived. My father was once editor of the newspaper in Punta Gorda so my family knows Punta Gorda will rebuild to her old charms.

<![if !vml]>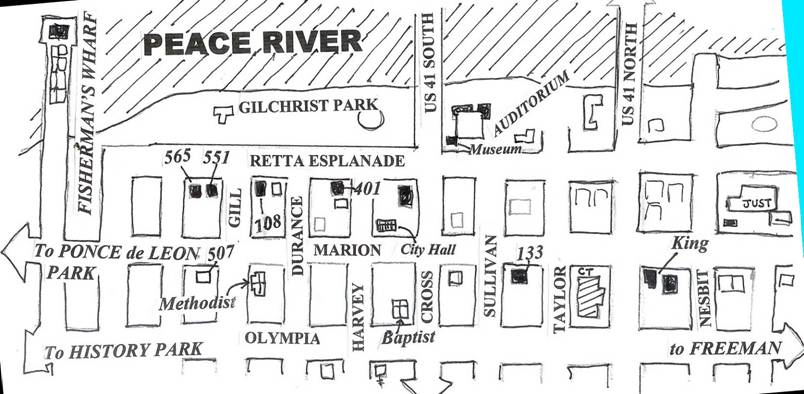 <![endif]>

WHERE TO START Begin in the front of the CHARLOTTE COUNTY CONVENTION CENTER, 75 Taylor Street, site of the 1887 Punta Gorda Hotel which brought investors like William Vanderbilt and Andrew Mellon to the area.
To the northwest is the COLLIER BRIDGE which replaced the original 1921 bridge. The towering 1975 GILCHRIST BRIDGE chops up downtown.
Drive west on RETTA ESPLANADE (1885), once directly on the Peace River before the dredging of the park. At 260 Retta Esplanade is the PUNTA GORDA MUSEUM, once the town library. The Holiday Inn has a fancy lounge to entertain Vanderbilt guests.

At 401 Retta Esplanade is the JAMES SANDLIN HOUSE (1893), a Victorian Gothic with a steep gable roof and a widow's walk. Sandlin was the only native Floridian on the first City Council.
In the next block is a nice 1914 two story frame vernacular at 551 RETTA ESPLANADE, but more interesting is the GEORGE McLANE HOUSE (1887), 565 Retta Esplanade, is a Queen Anne with a wraparound porch. McLane, a Confederate vet from Alabama, was Justice of the Peace during the town's often violent early years.
<![if !vml]>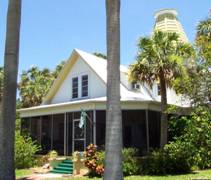 <![endif]>       <![if !vml]>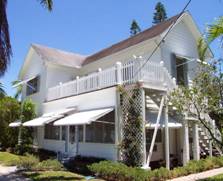 <![endif]>    <![if !vml]>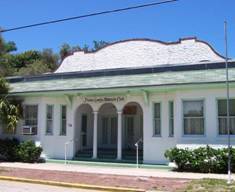 <![endif]>  Woman's Club
          565 Retta Esplanade                            551 Retta Esplanade

Turn left on MacGregor. Cross Marion, the main street, and turn left on Olympia and then left again on Gill.
On your right at 507 West Marion is the FIRST METHODIST CHURCH (1914), a fine brick edition in a Latin cross. The city's oldest congregation, they are proud of their lancet windows.

Cross Marion past a nice 1900 Victorian house at 108 Gill Street.   Turn right on Retta Esplanade, then right on Cross to pass the MAXWELL BUTLER HOUSE (1893), a small frame cottage with a shotgun plan and broad and batten siding.
Turn left on Olympia and left on Sullivan. On your right is the PUNTA GORDA WOMEN'S CLUB (1927), 118 Sullivan Street, built on land donated by Judge William Cooper of Chicago for a library, one of the many uses for this structure.
<![if !supportLineBreakNewLine]>
<![endif]>

Turn right on Retta Esplanade and right on Taylor. On the right was the SITE OF THE TOM HECTOR HOUSE (1895), where in 1887, 34 men (four African-Americans) voted over the objections of town father Trubue to incorporate. On your left is the CHARLOTTE COUNTY COURTHOUSE (1928), 227 Taylor, a Neo-Classical structure with the required side doors for officials to slip out.
You will have to get directions for our next building for it has been moved to a small park away from downtown.  That structure is the transplanted ISAAC TRABUE COTTAGE (1886), a shed like cottage of Punta Gorda's founder. Still on Marion east of Cross, on the left, is the SMITH ARCADE (1926), once the original post office.
<![if !vml]>
<![endif]>
At 133 Marion is the MERCANTILE BANK BUILDING (1912), a Classical Revival edifice that housed the FIrst National Bank until the Stock Market Crash. Down at 316 Marion is PUNTA GORDA CITY HALL (1927), a cute Neo Classical temple with a plaque dedicated to Gilchrist, a bachelor who left money for holiday treats for local kids.


One other beautiful historic house is east on Olympia, the A.C. FREEMAN HOUSE, a masterpiece of restoration.  For luncg, you might want to drive west along Marion and turn on the signs to FISHERMEN'S VILLAGE, a complex of shops, restaurants and fishing facilities built on the City Pier. It is an appropriate tribute to the town where fishing was a key business.

A mile west on Marion, through Punta Gorda Isles, is PONCE DE LEON HISTORIC PARK, a picnic site on grounds where some believe the Spanish explorer landed in 1513. It is a good spot to view vast Charlotte Harbor.
---