<
HYDE PARK
TAMPA
'S VICTORIAN TO BOOM ERA SUBURB
Hyde Park was Tampa's first Western suburb, stretching southward from the mouth of the Hillsborough River down the east side of the Interbay Peninsula. In 1886 O. H. Platt of Hyde Park, Illinois, purchased the Robert Jackson farm on the south side of the river in anticipation of a bridge. Two years later railroad baron Henry B. Plant constructed his Tampa Bay Hotel next door and not only did the bridge become a reality, but the subdivision of Queen Anne and Colonial Revival homes made Upper Hyde Park the ideal place to live in Tampa for generations.
<![if !vml]>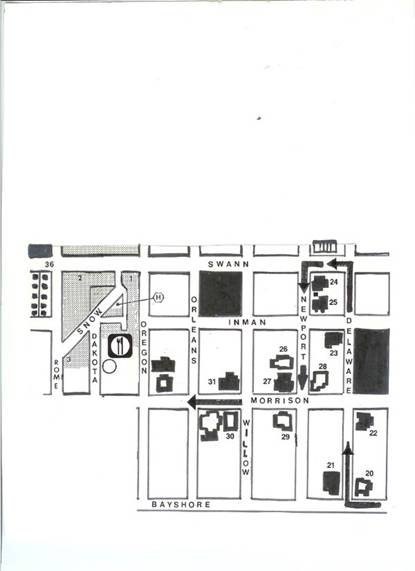 <![endif]><![if !vml]>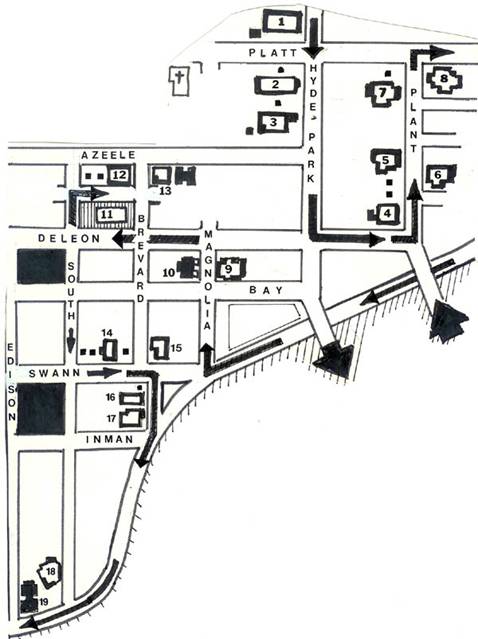 <![endif]>
<![if !supportLineBreakNewLine]>
<![endif]>
---
HOW TO GET THERE: Exit I-275 Ashley Street in downtown Tampa, cross the River on Kennedy Boulevard and turn left on Hyde Park Avenue. You will start the tour as you pass under the Cross-Town Expressway overpass. HISTORIC PLACES TO STAY AND EAT: Hyde Park is mostly Victorian residential, but South Howard Avenue to the west of Old Hyde Park Village has become a notable restaurant row, featuring BERN'S STEAK HOUSE, 1208 South Howard Avenue, (813)251-2451), for forty years one of America's most notable steak palaces (EXPENSIVE). MISE EN PLACE, 442 West Kennedy, (813) 254-5373, in a vintage 1920's building opposite the University of Tampa, is a notable place. For seafood, continue to COLONNADE, 3401 Bayshore Blvd., (813)839-7558), a landmark since the 1930's.
(1) PETER O. KNIGHT COTTAGE (1887), 245 Hyde Park Avenue, a Victorian cottage serving as headquarters for the TAMPA HISTORICAL SOCIETY. It was the Honeymoon home for the man, who after serving as first lawyer and second mayor of Fort Myers (since he was 20 he couldn't run as "first" mayor as well as founder of Lee County, came to Tampa to start the Exchange National Bank, the Tampa Gas Company, and Tampa Suburban Railway.
<![if !vml]>
<![endif]>
One block south on the right is the: (2)THOMAS CARSON TALIAFERRO HOUSE (1890), 305 Hyde Park Avenue, a two-story Georgian Revival, designed by St. Louis architects Grable, Weber, & Groves for the founder of the First National Bank. One of the first house guests was brother James, a United States Senator. A few doors down is the:
(3) R. MOREY HOUSE(1905), 315 Hyde Park Avenue, a brick Classical home of the President of the Morey & Company Cigar Company and founder of the first resort on Pass-A-Grille Beach, Pinellas County's first beachside village.
---
TURN LEFT ON DELEON, TRAVEL ONE BLOCK, AND TURN LEFT ON ONE WAY PLANT AVENUE, staying on the far left side by the:
(4) JAMES B. ANDERSON HOUSE (1892), 349 Plant Avenue, a granite trimmed mansion designed by Francis J. Kennard. As Treasurer of the Tampa Board of Trade, Anderson could afford the six fireplaces and third floor ballroom.
Up the street is the: (5) SUMTER LOWRY HOUSE (1893), 333 Plant Avenue, the three story clapboard home of the colorful City Councilman and helped start Tampa's Lowry Park Zoo and St. Andrews Episcopal Church..
Across the street is the: (6) ALBERT JOHNSON HOUSE (1891), 332 Plant Avenue, started as a hunting lodge for Marshall Field and converted by lumberman Johnson. In contrast, one block west, is:
the (7) O. J. SPAFFORD HOUSE (1882), 315 Plant Avenue, a Colonial Revival built by an insurance executive and later Tampa Women's Club (1922) headquarters.

As you CROSS HYDE PARK PLACE, on the right is the notable: (8)CURRIE J. HUTCHINSON HOUSE (1908), 304 Plant Avenue, the finest Second Empire mansion in Tampa, home of a former City Councilman.
<![if !supportLineBreakNewLine]>
<![endif]>
---
Due to one way streets, TURN RIGHT ON PLATT STREET and then RIGHT ON BAYSHORE BOULEVARD. STAY IN THE RIGHT LANE despite the temptation to look at Tampa General Hospital and Davis Islands.
<![if !vml]>
<![endif]>TURN RIGHT ONTO MAGNOLIA STREET, where one block north by Bay, you will note the: (9) CARLOS DUDLEY HOUSE (1905), 52l Bay Street, a two-story Colonial Revival with a big bay window. On the opposite corner is the (10) ISBON B. GIDDENS HOUSE (1910), 607 Magnolia Street, a good Prairie style house of an early City Councilman.
TURN LEFT ON DELEON, go two blocks, and TURN RIGHT ON FOUR LANE SOUTH BOULEVARD, past:
(11) JOHN GORRIE SCHOOL (1899), 502 South Boulevard, the oldest continuously used Tampa elementary school, and finely restored by its proud alumni. An old street car shed serves as a bus shelter.

TURN RIGHT ON HORATIO and stop by the last structure on the left, the: (12) FRIDAY MORNING MUSICALE (1926), 701 Horatio Street, the one story Mediterranean community center still in use for plays and shows. Also known as the FEDERATED WOMEN'S CLUB.
<![if !supportLineBreakNewLine]>
<![endif]>
---
Before turning RIGHT ON BREVARD STREET, notice the house across the street on your left: the (13) DOYLE CARLTON HOUSE (1920), 617 Horatio Street, the modest frame house from which Tampa City Attorney Carlton left in 1929 to become Governor of Florida. Next door are the CARLTON APARTMENTS.
TRAVEL TWO BLOCKS DOWN BREVARD and TURN RIGHT ON BAY, then LEFT ON SOUTH, and finally LEFT ON SWANN AVENUE.
At 705 Swann Avenue is the (14) TAMPA REALISTIC ART CENTER (1899), once the city's first hot lunch center (at Gorrie School) and later the Hyde Park Branch Library. Up the street at (15) 611 SWANN AVENUE (1923) is a good example of the bungalow houses that constitute much of the Lower Hyde Park area.
TURN RIGHT ON BREVARD where the second house on the right is the (17) PAT WHITAKER HOUSE (1914), 727 Brevard Avenue, a blend of Gothic and Spanish complete with an octagonal tower on the waterfront side.
---
TURN RIGHT ON busy BAYSHORE, driving slowly past the big mansions. Just past South Boulevard is the (18) WATSON DORCHSTER HOUSE (1912), 901 Bayshore Boulevard, a two story Spanish masonry home of a Tampa doctor and realtor.
<![if !vml]>
<![endif]>Next door is the (19) ISAAC MAAS HOUSE (1924), 907 Bayshore Boulevard, the decorative residence of one of the two German Jewish brothers who started Florida's largest department chain.
You may want to continue another six miles down "mansion row" but please TURN RIGHT ON DELAWARE, the second street, right in front of the:
(20)FRANK BENTLEY HOUSE (1924), 1005 Bayshore Boulevard, a Georgian masonry estate owned by the President of Bentley-Grey Dry Goods. The first house on the left is the: (21) HOWARD MACFARLANE HOUSE (1923), 903 Delaware Street, a clapboard home for the son of the founder of West Tampa, Hugh MacFarlane. Notice the brick house while you note on your right at the end of the block, the: (22) LEO WEISS HOUSE (1929), 902 Delaware Street, the finest English Tudor estate in Tampa, designed by Christopher Robinson.
---
CROSS MORRISON and proceed to the last home on the left, the: (23) WILLIAM HIMES HOUSE (1911), 801 Delaware Street, a three story Greek Revival mansion of a noted lawyer.
TRAVEL TO SWANN AVENUE and pause to notice the historic markers and the facade of the l9l3 WOODROW WILSON JUNIOR HIGH SCHOOL, Tampa's oldest middle school. TURN LEFT ON SWANN and then LEFT ON NEWPORT, a street lacking Delaware's trees, but full of great houses.

The second house on the left is the: (24) M. LEO ELLIOTT HOUSE (1921), 710 Newport Street, a rather plain Dutch-Colonial for the architect responsible for such West Coast landmarks as Tampa City Hall and Sarasota High.
<![if !vml]>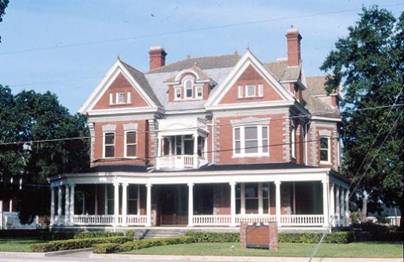 <![endif]> <![if !vml]>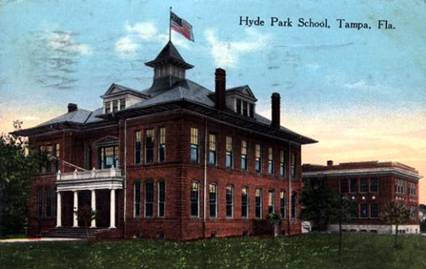 <![endif]>
Addison-Frank House Original Look of Gorrie School
Two houses down on the left is one of Elliott's best houses, the: (25) HENRY LEIMAN HOUSE (1916), 716 Newport Street, a wonderful Prairie Style residence. The two story frame-stucco U-shape house of cigar box magnate Leiman requires a look from several angles.

CONTINUE PAST INMAN to the last house on the right, the: (26) OWEN LOWTHER HOUSE (1912), 845 Newport Street, the detailed edifice of Tampa's largest naval store owner.
At 850 Newport Street is the district's oldest house, the 1885 (28) WILLIAM A. MORRISON HOUSE, a remodeled Italinate homestead which was once surrounded only by orange groves. The foundation blocks are homemade and reinforced by trolley rails. State Attorney General Thomas Watson once resided here.
At 901 Newport Street is the (29) GRENVILLE HENDERSON HOUSE (1910), the Colonial Revival residence of a realtor and Florida State Senator.
---
TURN LEFT ON MORRISON and stop at Willow to notice on your left the: (30) ANGEL CUESTA JR. HOUSE (1921), residence of the Treasurer of Cuesta Rey Cigars. Across the street on your right is the: (31) HARRY J. WATROUS HOUSE (1911), 1301 Morrison Street, a large clapboard with five fireplaces created by M. Leo Elliott. <![if !vml]>
<![endif]> /CONTINUE DOWN MORRISON past many fine houses of the 1920's. You are entering the area known as "Suburb Beautiful". TURN RIGHT ON OREGON to reach Swann and the main entrance to: OLD HYDE PARK (1985), 712 Oregon at Swann, Hyde Park's shopping and restaurant development. Hyde Park and n earby South Howard (SOHO) have become an area of restaurants, assured of being a popular, convenient place for people who like urban living in stable, beautiful neighborhoods.
<![if !supportLineBreakNewLine]>
<![endif]>
---
Additional Hyde Park Buildings Of Note:
GEORGE BOOKER HOUSE (1924), 120l Bayshore Boulevard, is a three story brick structure, designed by Francis J. Kennard, for the President of Booker & Company.
GIDDINGS E. MABRY HOUSE (1925), 1503 Bayshore Boulevard, was the residence of the President of Mabry, Reaves, and Carlton, and a City and County Attorney.
WILLIAM F. FERMAN HOUSE (1923), 1815 Bayshore Boulevard, was the home of the founder of Tampa's first automobile dealership (1902), Ferman Motor Company, and the organizer of the Greater Tampa Chamber of Commerce.
D. BRENHAM McKAY HOUSE (1922), 824 South Orleans, is a clapboard house with Corinthian columns built for the publisher and editor of the Tampa Times. McKay served as county historian from 1949 to 1960, and started the Hillsborough County Historical Commission.
<![if !vml]>
<![endif]>BUNGALOW TERRACE (1916), Rome and Inman at Swann Avenue, is a unique mini-subdivision of nineteen California bungalows set up for winter residents. The houses, mostly "airplane style bunaglows" face each other across a sidewalk, with rear alleyways serving as off-street parking. They are just one block from Old Hyde Park, the area's upscale Victorian shopping district.
BAILEY-ERLER APARTMENTS (1925), 902 South Dakota, was a twelve unit condominium apartment complex designed by Francis J. Kennedy.
FIRST CHURCH OF CHRIST (1926), 408 Grand Central Avenue, is a Greek and Byzantine church of concrete and pressed brick with large Corinthian columns on the portico, designed by W. S. Schull of St. Petersburg, but completed by Franklin Adams when the former architect died.
PARK THEATRE BUILDING (1927), 428 West Kennedy Boulevard, is located in a commercial complex and was a popular vaudeville and movie house prior to its operation since 1962 as a stage for productions of the University of Tampa, located across the street.
HYDE PARK UNITED METHODIST (1907), 500 West Platt at Cedar, originated in 1900 when Reverend Henry Hice and twelve Methodists who lived west of the Hillsborough River started a church. Peter O. Knight, John Trice, A. C. Clewis, J. C. McKay, and other pioneers were church members.